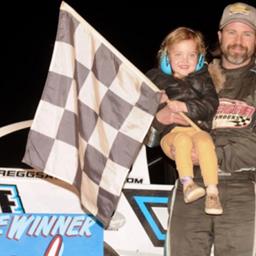 ---
Gregg Satterlee tops Lazer Late Model Clash at Lincoln, collects $3,700
Gregg Satterlee turned a rare start at Pennsylvania's Lincoln Speedway on Saturday night into his 11th win of the year. He received $3,700 for his victory in the Lazer Late Model Clash aboard his Satterlee Motorsports No. 22 Keyser Manufacturing / Classic Ink / XR1 Rocket Chassis / Clements Racing Engine Super Late Model. (Barry Lenhart photos)
"We don't get to race Late Models at Lincoln (Speedway) very often, so it makes it extra special to get the win here," Satterlee noted. "We paced Rick (Eckert) early in the feature and got by him just past the halfway mark and kept the lead from there to get the win. Thanks to everyone at Lazer Chassis for helping make this event possible, and hopefully we'll get to race here more in the future."
Gregg Satterlee returned to the driver's seat of his Rocket Chassis No. 22 Super Late Model on Saturday afternoon for the Lazer Late Model Clash at Lincoln Speedway (Abbottstown, Pa.).
With 28 Late Models entered, Satterlee picked up $200 from Selinsgrove Ford for topping the speed charts in time trials with a 15.185-second lap.
With fellow front-row starter Rick Eckert taking the lead early in the feature, Satterlee tracked down Eckert on lap 22 and led the remaining 13 circuits to capture his 11th win of the season and a $3,500 prize. He finished ahead of Dylan Yoder, Eckert, Trever Feathers, and Bryan Bernheisel.
Full results from the event are available at www.LincolnSpeedway.com.
The team will be idle this weekend before entering what will likely be their final events of the year on October 21-22 at Bedford (Pa.) Speedway with the 2022 Bedford Keystone Cup. The weekend posts twin $2,200-to-win prelim features on Friday night before concluding with a $22,000-to-win finale on Saturday evening.
Full details on the event can be found by visiting www.BedfordSpeedway.com.
Article Media
Back to News